LW Chemicals Sani-Tap Strips
Get rid of fruit flies – Easy To Use – Safe – Economical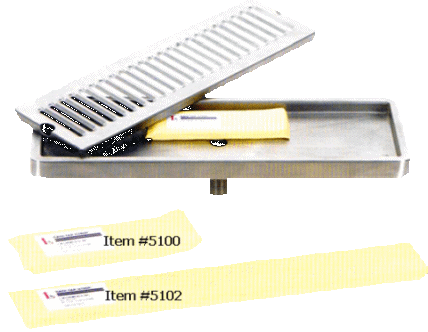 Get rid of fruit flies! Fruit Fly presence in and around your bar area is significantly reduced.
Controls foul smelling odors caused by mildew, fungi, algae, and slime.
Prevents drain overflows due to bacteria, slime, and algae build-up.
Controlled release – lasts up to three weeks!! (depending on volume), allowing drip pan service to coincide with bi-weekly draught line cleaning
Easily fits into most drip pans.     Simple to change,and with no mess.
Indoor or outdoor applications. Solves draught beer drip pan problems.
Getting rid of fruit flies bar area or beer tap can be a nightmare, but Sani-Tap strips make the job easy.

Item #5100….SANI-TAP STRIPS (10 per pack)…..5″ X 1 1/2″ X 1/2″

Item #5102….SANI-TAP STRIPS (10 per pack)…12″ X 1 1/2″ X 1/2″

(lwchem@frontiernet.net) – Email Us By Clicking Here Now!!
Click Here To Return To MAIN Beer Line Cleaner Page
Click Here To Return To Beer Line Cleaner LW-401 Page
Click Here Now, To View Beer Line Cleaning Procedures.